Accommodation
You stay in the guest building, which has four tastefully furnished rooms and a big kitchen. There are eight beds and children's bed is available. WC and a separate shower is communal.
For an extra fee you can use the spa with sauna and a small gym.

You can choose between Bed & Breakfast with made beds and a breakfast buffé,

or Self-catering where you bring your own sheets and towels, prepare your own food in our fully equipped kitchen and clean the apartment before you leave.

You can also choose alternative forms that are inbetween "Bed & breakfast" and "Self catering".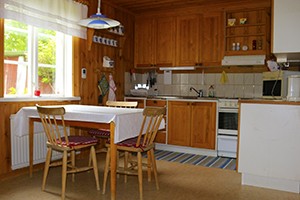 Kitchen table